Oscar Contenders Provide Architectural Woodcarving Inspiration
Design inspiration for unique architectural woodcarving can come from a variety of surprising places. Have you considered the film sets of the 2013 Oscar contenders?  With sets ranging from the sensory overload of Anna Karenina's opulent ballrooms, to the earthy elegance of Bilbo's home in The Hobbit, one of the the common themes is the use of sweeping arches and stately columns.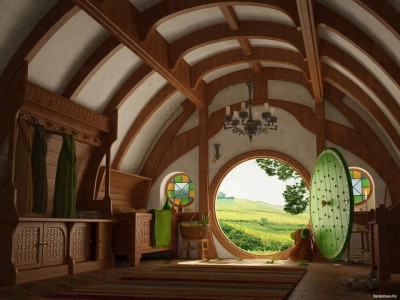 The hobbit home for Bilbo breathes classic Arts and Crafts with it long beams and a twist on the common door. Using moldings and simple corbels effectively, the unique portholes draw the eye. Inspiration for unique woodwork with an Art Noveau twist may also be found in the Elves home of Rivendale. Sweeping arches command center stage on the lavish set of Anna Karenina. Completing the feel of opulence are the gilt furniture, jewel toned brocades, and murals designed by the great artists of the era. The sets for The Life of Pi spanned three continents and uses the timeless inspiration of nature as found in the Botanical Gardens of Pondicherry, India.  Reaching columns with ornate wooden capitals and solid bases are the architectural details that immerse the viewer in the elegance of Indian culture. Other Oscar nominees and winners heavy on the architecture, but both with very different influences, are Les Miserables (using the classical lines of the National Maritime Museum in Greenwich) and historical Lincoln. For inspiring ideas for unique architectural woodcarving, check out Art For Everyday. Custom woodworking is also available by  contacting us for more information.