Woodcarvings Add Beauty to Kitchens
For kitchen designers, the tension between form and function is especially pronounced. Almost no other part of the home requires as much balancing between aesthetics and functional capacity as the kitchen, a room which homeowners are increasingly expecting to be show house-worthy, while still working as a space for everyday food prep, culinary experimentation, cleanup, and family togetherness.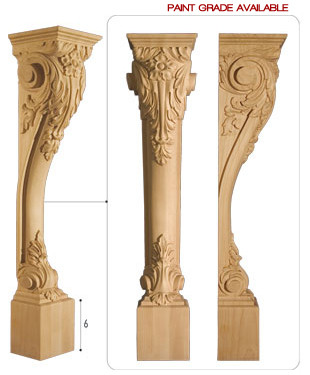 So how can a kitchen design fulfill so many disparate requirements? Legendary textile designer and artist William Morris, the father of the English Arts and Crafts movement, had this to say about the twin issues of form and function:
If you want a golden rule that will fit everybody, this is it: Have nothing in your houses that you do not know to be useful, or believe to be beautiful.
At Art for Everyday, we create architectural woodcarvings that bridge practicality and aesthetics in your kitchen designs. Most of the elements in a kitchen serve more than just a visual purpose, but our decorative architectural components incorporate beauty into the basics. If you specialize in Ontario kitchen design, visit our website to explore our selection of island posts, legs, and corbels. We also carry a wide range of mouldings, appliques, and other millwork products for high-end kitchen cabinetry. Our woodcarving products allow you to incorporate your stylistic  inspiration right into the structure of the kitchen, from the range hood to the kitchen island. How have you used millwork to enhance your kitchen design projects? Leave us a comment with your answer! photo: Art for Everyday